The Tall Book of Make-Believe
---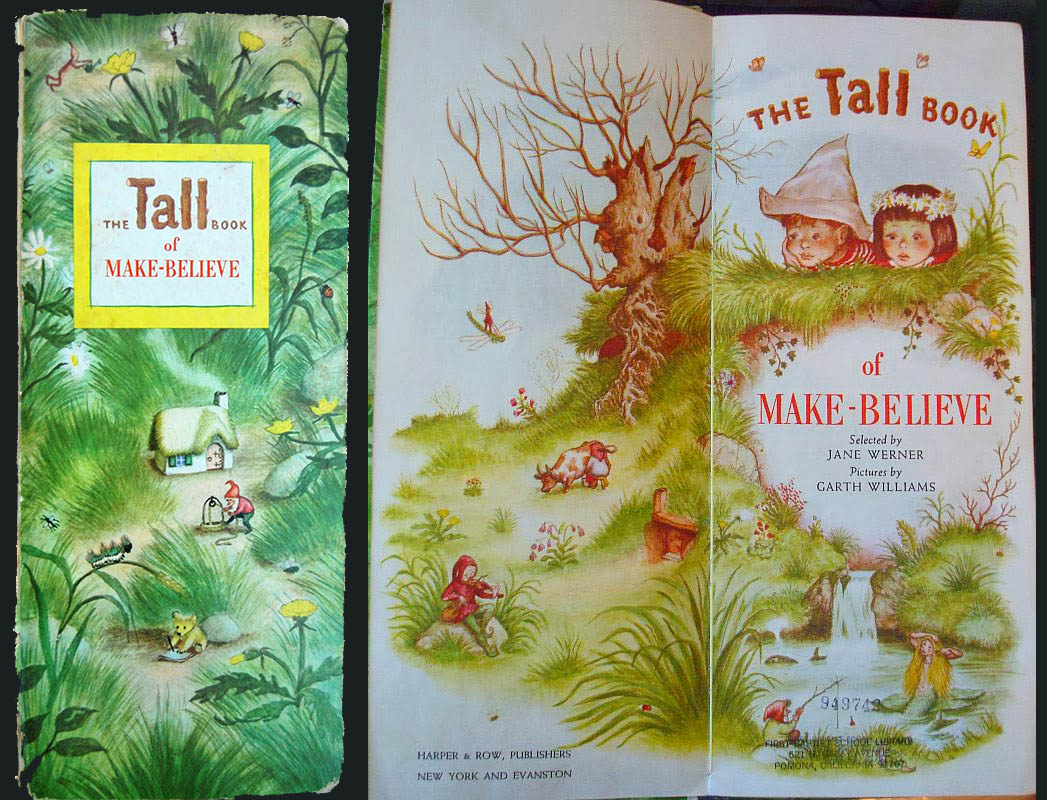 One of my favorite books when I was very young was The Tall Book of Make-Believe a collection of stories and poems selected by Jane Werner. I loved the illustrations, the imaginative stories, even the shape of the book: tall and slender. The stories and poems I enjoyed the most were the most fantastic and quirky ones. The ones that really involved your imagination.
Here is a list of the included stories. I loved almost all of them but my favorites are in bold.
Somewhere by Walter De la Mare
One Day When We Went Walking by Valine Hobbs
The Sugar-plum Tree by Eugene Field
The Very Mischief by Lesley Frost
The Little House by Elizabeth Godley
Susan's Bears by Mildred Lawrence
The Duel by Eugene Field
What I Would Do by Dorothy Aldis
Mr. Nobody by Anonymous
Someone by Walter de la Mare
Bad mousie by Martha Ward Dudley
Calico Pie by Edward Lear
Mrs. Brown by Rose Fyleman
The Whale by Geoffrey Dearmer
Moon Song by Mildred Plew Meigs
The Mermaid by Alfred Tennyson
The Everlasting Lollipop by Paul Averitt
The Bear Hunt by Margaret Widdemer
Wynken

, Blynken, and Nod

by Eugene Field
Foreign Lands by Robert Louis Stevenson
A Piper by Seumas O'Sullivan
The Little Elf by John Kendrick Bangs
The Pear Tree by E. Elizabeth Longwell
Growing Up by Marchette Chute
The Land of Counterpane by Robert Louis Stevenson
Georgie by Robert Bright
Strange Tree by Elizabeth Madox Roberts
When I Was a Bird by Katherine Mansfield
How They Bring Back the Village of Cream Puffs When the Wind Blows it Away by Carl Sandburg
Hiding by Dorothy Aldis
The Invisible Playmate by Margaret Widdemer
A Swing Song by William Allingham
Clouds by Christina G. Rossetti
The Crescent Moon by Amy Lowell
One of the things that made this book so much a part of my early memories was the beautiful illustrations by Garth Williams. Someone has collected a few of the original illustrations and put them online at larsonweb.com; they are definitely worth a look. Below are a few from the book. The left one is for The Invisible Playmate and the middle one accompanies The Very Mischief. Imagine
, fairies swimming in your lemonade. And during breakfast. And there's Rosa, flat as a pancake burning the peas because she can't see them anymore (they're round, she's not). That's the world I dreamed of: lions under the table, friendly ghosts in the attic, any manner of madness.
I dated a man once who confessed that he had always dreamed of Darren Stevens's life. You know, Samantha's advertising husband in Bewitched; the man with the nice suit and suburban life. He then turned to me and said "What about you? What lifestyle did you always want?" The Addams Family immediately popped into my head, clear as day. Should I have told him? Hmmmmm.