Technical Credits
---
Blog
The blog section of this website is powered by WordPress, a wonderful free and open source community web software.
To customize WordPress to meet my needs I have also used the following WordPress plugins

Family Tree
The Family Tree section of the website is powered by the excellent The Next Generation of Genealogy Sitebuilding by Darrin Lythgoe. This excellent web software manages my genealogy as a database, creating complex pages and charts for viewers on the fly
I have customized TNG  with the following Mods:
Website Theme
The base theme for the blog is Honma designed by PWT. I then customized this theme to suit my own tastes and the needs of the website and customized the stock TNG theme for the Family Tree section of the website to complement the Baskerville theme.
Genealogy Software
I own a Macbook Pro laptop and use Reunion by Leister Productions, Inc. as my primary  genealogy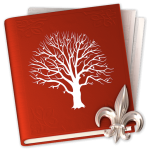 software. No current Windows or Mac software does everything I need, in the way that I want it to so I also own MacFamilyTree by Synium. It has great 3d tree graphics and charts. I also occasionally use Rootsmagic for Mac by Rootsmagic, Inc. for a few specific tasks.