Out of the Attic!
---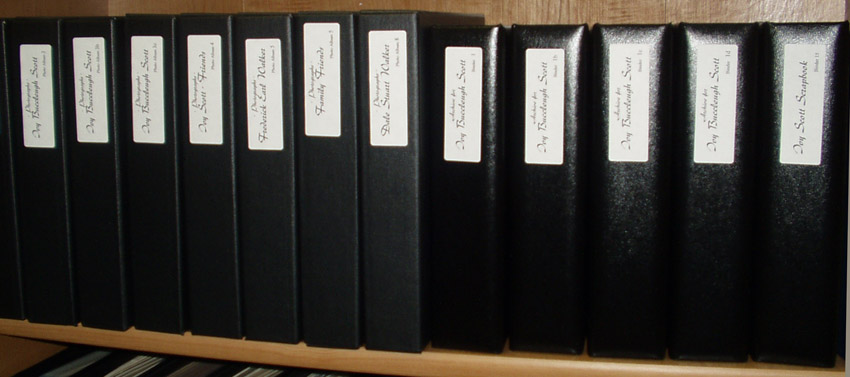 You know the problem, an attic full of boxes stuffed with great great-grandma's memorabilia. Nobody wants to throw them away, but nobody wants to deal with them either, because the task is just too daunting. The boxes haven't been looked at in years so their treasures remain undiscovered and unappreciated. Large pieces of family history—lost. Well not necessarily. It turns out, with a good system in place, an archival project like this can be made manageable. Yes, you too, a mere mortal, can get your memorabilia out of those boxes, organize them in a way that makes them more accessible, and gear their storage for preservation rather than decay with a minimum of agony. I wouldn't say it's easy but it doesn't have to be impossible. A little organization goes a long way here.
Did she say organization? EEEEK! Well, don't go running from the room just yet, I said a little organization. My first archive project was for my father. It involved over 3000 archives
, that's 7-8 big boxes of "stuff," and while I wouldn't call it fun, it was much easier and went much faster than I would ever have guessed. It took three weeks, doing all the work myself (by choice). Imagine if you could get one or two family members to lend a hand? My dad ended up with a bookcase full of archives that are carefully preserved and can be looked through with ease. He was thrilled! I discovered a multitude of treasures, including tidbits about his grandmother's acting career that even he had forgotten. Was it worth the sore back and tired eyes? You betcha!
Below, I've outlined one way to do this task. No one method works for everyone so just use this as a guideline. My main goal here, is to get you started. Those deteriorating archives are calling your name!
Step One: Procrastinate , procrastinate, procrastinate. But you've done that! So here you are, already at Step Two! Isn't this going well?
Locate all the boxes of stuff. Some may have worked their way to parent's, children's or sibling's houses. If they are willing, you can consolidate the boxes for organizing and preserving and then redistribute them to the respective relatives when done. If not

, work with the things you have.

Pick a good time to do this. This project will take weeks not days to finish so plan for that.
Pick a workplace, preferably a room with low traffic so you can spread the project out. Once you get going, that workplace is going to look like a bomb went off in it so keep that in mind. Think spare bedroom or a little used study.
Bring the boxes into the workroom and peek into them, getting a general idea what kind of archives they are—big, little, bulky, thin—and how many there are. This will give you an idea what archival storage items you will need to buy. Don't get carried away and start pulling things out—you're not ready yet!
Decide on an archival strategy. Look at all the archiving options and pick the ones that best serve your needs. Think about preservation concerns, best practices for handling archives, and storage options. Remember that part of this process is deciding where the archives will go after they are organized. That attic won't do anymore. Ask yourself: "Do I want to be able to easily go through them?", "Do I want to divide them into groups (putting all archives from one family together for example)?", "How much good storage space do I have?". Careful decision making here will reduce problems later on. To give you the idea: you might choose to put flat, thin documents into an archival-safe plastic sleeve (preserver) with an acid/lignin free piece of paper behind them. The plastic sleeves then go into albums or AlbumBoxes. Large, bulky items get put into archival boxes. All these get stacked off the floor on metal shelves.
TWO CAUTIONS if you decide to categorize your archives by topic or person:

Make your system flexible. Many of your archives will belong to more than one category

, marriage certificates for example, and it is almost impossible to predict which category will turn out to be the best one. When I did my own archives, I initially put all the original marriage certificates in a binder marked Marriages (I store my Xeroxed certificates that way, so this should work, right?) but it turned out that when I started doing research from these archives, I kept reaching for the person binders to find a marriage certificate. Obviously, my brain associated the originals more to persons than record types. Since each archive was in its own page, I was able to easily redistribute them to person binders. A flexible system also takes the pressure off initial decision-making.

It's more important to store an archive properly than it is to get it in the right category. Bulky or heavy items should not be stored with thin

, fragile ones.

Buy or order enough archival supplies in advance to get you through at least half of the project. Buying in bulk saves money so the more you buy at first, the better off you are. Good archival supply stores will let you return unopened items. Also, ordering in advance lets you buy online, usually cheaper.
Once you have your supplies, you can set up your workspace. This is a very personalized process but to here are some ideas to point you in the right direction:

Start by pushing all the furniture to the edges of the room. This will give you the maximum amount of free space and believe me you'll need it. A decent size collection can easily cover the floor of a 14'x14′ room! You have two options here: working directly on the floor or working at a table. Floors offer the most space to spread out (and believe me

, you will spread out!) but can be very hard on the back and legs. If you choose to work at a table get the largest one you can find. If you don't have a large table push two smaller ones together or consider renting one of the long collapsible ones. You need sufficient space for your immediate workspace and the piles of archives you will accumulate.

To protect your documents and memorabilia, spread a clean white cotton sheet over your work area
Position yourself right in the middle of the floor or table with the box of "grandma's stuff" on one side, and the archive supplies on the other. Your "handedness" will influence which goes where. You want to achieve an assembly line process (big words for fast and efficient) so have everything AT HAND. By getting all the supplies within arms reach you won't have to keep interrupting your task to go get something. Lay everything out in an organized way, within arms reach and leave it there until the project is done. If you have limited space and have to put everything away after each session, put it back the same way each new session. This way the task can become instinctual and, as such

, faster. You know what I'm talking about—the disappearing wrapping paper scissors at Christmas time. Every time you need the scissors when wrapping gifts you have to search for them. How can that be when you haven't moved from the chair? The answer is that you put them down in a different place each time, one that seems logical to you at the time but isn't logical when you reach for them.

Place a plastic garbage bag in the workroom and throw trash and unwanted items into it. DO NOT EMPTY THIS BAG UNTIL THE PROJECT IS COMPLETELY FINISHED! I'm not kidding folks, it is way too easy to lose track of things in a project of this size.

Okay, your workspace is set up and you're ready to go. Wait for the right day to start, one that isn't too full. One where you're feeling really "up." Take a deep breath. Take another deep breath. Take one final deeeeep breath and… DIVE IN!\Carefully take one archive at a time from the box (making sure it's fully supported) and access its condition. Do whatever archiving process you decided on to it and put it down. If you have chosen to sort your archives by category, place the archive in its correct pile and move to the next item. Do this over and over, until the box is empty and then get the next box. Again, here's one way to do it:

Take one item from the box and access its condition. If the condition is relatively good, very carefully unfold or unwrap it. Folds stress archives and so it's best to store them unfolded when possible. If the item is very fragile, sit there staring at it trying to decide whether to risk shattering it by unfolding. I have been known to agonize over this (irreversible) decision for upwards of a half an hour! In the case of paper archives, it helps to know that, eventually, it will probably split at the folds anyway. If the document holds valuable information, I may decide that it is more important to have it readable and in pieces

, than intact and folded. My best advice here is that you put aside the risky archives. When you are at the end of the organizing, look at them again and make you decision then, Leave the truly valuable archives for a professional conservationist to tackle. I generally start with the bulkiest archives first. Don't ask me why, but that seem to make the job go faster.

Carefully perform any minor conservation (unfold, brush off dust, unbend corners) Warning: Do not get carried away here! Anything other than light dusting should be left to a professional conservator!!!
Remember, sometimes an "item" is actually a collection of items, obituaries stored in an envelope or letters tied together, for example. If you can, always keep items with a shared provenance together.  If you have to separate them physically (each page of a letter in its own enclosure for example) link them by labeling the enclosures. Remember, it's not just "a letter," it's "letters that Grandma saved."
If you have chosen to use enclosures, put the item into its sleeve or envelope and label the enclosure if necessary. Use a pencil to lightly write on paper enclosures and archival markers for labeling plastic ones. Keep markers well away from your papers lest you accidentally mar them. I place badly decayed paper archives in between two sheets of unbuffered acid free paper to leach as much acid out as possible.
After processing

, place the item in the appropriate pile. I usually only have about six piles initially, broad categories like The Walker Family and Photographs. There are three reasons to keep the initial number of groups small. First, subcategories usually only become truly apparent as you go through everything. Second, it is confusing to try and remember a large number of categories and usually slows the process down. Slow is bad. Third, it keeps the stuff contained for the bulk of the project. Contained is good.

Once you empty all the boxes, go through the piles you have created one at a time, and subdivide each into smaller, more specific groupings—your Dad's career for example. Breaking up the sorting turns one huge job into several smaller ones, which goes a long way to keeping the project manageable and your sanity intact!
Finally, after subdividing a stack, go through the smaller piles and organize them in some logical way, chronologically for example, or career, then letters. I put the smaller groupings into their respective binders or boxes before starting on the next stack. This helps to contain the chaos.

Label each container either by writing on it with pencil or applying archival quality labels. At a minimum you should number each to distinguish them from each other. If you want the archives to be easily accessible, you might want to give the containers descriptive titles and create an index for them. A good index will reduce the amount of handling the archives will suffer. You can do this by hand, on a word processor or in a spreadsheet file. Spreadsheets offer the flexibility to sort the index by container, person, or item and update if you move items to another container.
Okay, you've finished organizing everything. All the boxes are labeled and stored

, you've cleaned the room and put away all the tools, tables etc. for the last time.  Think your done? Well, almost. Remember that trash bag you've been diligently hanging on to? Your final task is to dump this bag out and reload it piece by piece to make absolutely sure you haven't discarded anything valuable. Too tired? Feel like skipping this step? Don't. Like I said in Step 9 it is way to easy to accidentally throw something out. I had a friend who organized his family papers and didn't save the trash. To his great delight he discovered his grandfather's Spanish American War enlistment papers and promptly

, in the confusion of the project, threw them out. Lost forever! Take the time and go through the bag. You won't regret it.
And that's all there is to it. Not too bad all things considered. To help spur you on to organizing and preserving your own memorabilia let me leave you with this: Family heirlooms are perishable. Without proper preservation, they will eventually disappear and a part of history—your history—will be gone forever. That's worth a little work don't you think?
Copyright 2016, Patricia A. Walker. All rights reserved. Copying for personal use is not only okay, it's encouraged!